Giving FAQ's
How do I setup a new recurring gift with Pushpay®?
Visit https://pushpay.com/pay/firstdallas/recurring and set up your automatic gift using Pushpay®. The recurring gift option should already be selected and you can simply set up your automatic gift. After you set up your recurring gift, you will be prompted to complete the setup of your new account!
How do I cancel my existing ServiceU recurring gift?
Cancel scheduled gifts in ServiceU following the instructions below.
1. Log into your existing (old) account
o Click on the "cancel" link at www.firstdallas.org/give
o Select Online Giving
o Select Click Here to create your online giving profile
o Sign in with email and password
2. Select My Profile at the top
3. Select My Settings
4. Select Recurring payments
5. Select Delete
6. Confirm Delete
What is Pushpay®?
Pushpay® enables you to make safe and speedy smartphone payments. It is a free application that you can download, register and then pay any organization who is listed on Pushpay®. It is available from the App Store™ for Apple™ iOS and from Google Play for Android.
Is Pushpay® safe?
Yes. Credit card details are not stored on your phone. Credit card details are tokenized and are stored on industrial grade servers where this information is then encrypted. The security setup we have used is the same as many banks and is PCI DSS compliant. For this reason, Pushpay® is considered significantly more secure than many current offerings including actually having a credit card physically present. If your phone is lost, no transactions can be made without your passcode, as opposed to current credit card theft.
What does it cost?
Pushpay® is free and available from the App Store for Apple™ iOS devices and Google Play for Android devices. Pushpay® does not charge users to make payments. However, the use of Pushpay® may incur 3rd party fees such as from your mobile service provider or bank. For example, Pushpay® requires an Internet data connection so your mobile service provider may charge a fee for the data you use. Also, your bank's standard transaction fees apply, including foreign currency fees if you make a payment in a different currency. The payment amount and currency (excluding any third party fees) is specified on each payment page, prior to passcode confirmation.
What if I lose my phone?
If your phone is lost, even if you are logged into Pushpay® no transactions can be made without your passcode. You can also freeze your account by logging into Pushpay®.com with your registered email and password and choosing the Freeze My Account option.
What if I forget my security passcode?
You can reset your account password by going to the reset password page.
What are the benefits of Pushpay® for a consumer?
Simply being able to pull out your phone and make a contribution in the space of a few seconds is compelling. Pushpay® is a safe and easy to use tool, allowing you to never miss the moment. To make this process even better, Pushpay® offers recurring contributions that are just as easy to setup.
Do customers need to sign up with a particular bank or credit card company?
Pushpay® works with any credit or debit card displaying Visa or MasterCard compatibility.
Do I get a receipt?
First Baptist Church of Dallas will provide you with a quarterly statement. However you can view a list of your transactions that you have made using Pushpay®.
What platforms does Pushpay® operate on?
Pushpay® is available for Apple™ iOS and Android.
Can I donate or give online?
Click here for online giving.
Do you have envelopes available for me to mail in my tithe?
Yes! If you would like for us to mail you a supply of envelopes for your tithe contributions, please send your name, address, and telephone number to Blank envelopes are available in the pews of the Worship Center and Day One sanctuary. Below is an example of a correctly completed envelope.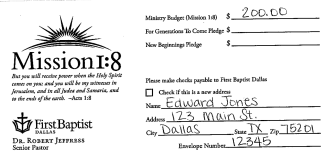 May I receive a contribution statement online instead of by mail?
Yes. First Baptist Dallas now sends out e-statements quarterly and year-end. Please register at http://www.firstdallas.org/paperless. If you have any other questions or concerns about online giving, please contact the Finance & Accounting Office by e-mailing or by calling 214.969.2403.
When will I receive a contribution statement?
First Baptist Dallas mails quarterly and year-end contribution statements. If you have a question about your contribution statements, you may contact the Records Department by e-mailing or by calling 214.969.2403.